VOTE ON AUGUST 9 ONLY
Come to the polls and vote on August 9: it will be much more difficult to falsify the election results. If you do not come to the polls, your vote will not be lost: it will simply be given to the candidate for whom you did not vote.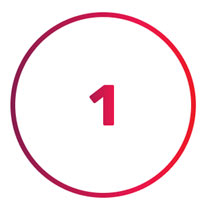 If you are forced to vote early, find a reason to refuse:
tell them that you are sick, that you have already voted or agreed to come with the whole family on August 9.
Compulsion to early voting – Article 9.10 of the Administrative Code (imprisonment up to 5 years).
Visit belarus2020.org now and mark the candidate you will vote for. This way we will know the real state of affairs.
AUGUST 9 – THE ELECTION DAY
Wear any white ribbon on your hand if you are for change and a new president.
Take your passport and mobile phone and come to the site on August 9 after 15:00.
Take a photo of the completed bulletin and send the photo to our website.
WHOM TO VOTE FOR ON AUGUST 9TH?
On August 9, everyone should come to the polling station and vote for Svetlana Tikhanovskaya.
Viktar Babaryka, Valery Tsepkala and Siarhei Tikhanovsky were cynically not allowed to participate in the election race. Now two of them are in jail because of their beliefs. Svetlana Tikhanovskaya, after her husband's arrest, submitted documents to the CEC and was able to get her registered as a presidential candidate.
The headquarters of Viktar Babaryka and Valery Tsepkala supported Svetlana to help all of us win the presidential elections and lead Belarus to a free and happy life.
WHY DO YOU NEED TO VOTE FOR SVETLANA TIKHANOVSKAYA?
After the victory of Svetlana Tikhanovskaya in the elections on August 9, new fair elections will be held with the participation of all alternative candidates, including Sergei Tikhanovsky, Viktor Babariko, Valery Tsepkalo and others. Thus, by voting for Svetlana Tikhanovskaya, you are voting for new elections.
WHAT WILL YOU LOSE IF YOU DO NOT DO IT?
An opportunity to fix the mess that led to low wages, an inefficient economy, and poverty. Has led to the fact that the most talented leave the country. To the fact that the citizens are fighting COVID-19 by themselves, and they say on TV that there is no epidemic. You see it all around you. It won't get any worse.
TELL YOUR FRIENDS, ACQUAINTANCES, NEIGHBORS!
WE WILL MEET AT THE ELECTION ON AUGUST 9TH! VOTING FOR CHANGE!